Animation, Suspended
The work presents the process of an artist and a scientist attempting to understand the intricate and debatable method of suspended animation, covering aspects concerning biology, applications and technical limitations. Authors: Isidora Krstic and Al Teleki
Installation:
-HD colour video, quadrophonic sound, 06:45
-Objects; brine shrimp immersed in water, Rose of Jericho, seeds
-Scientific papers on the topic of suspended animation
-Video: Interviews conducted with Herbert Edelsbrunner and Chris Walzer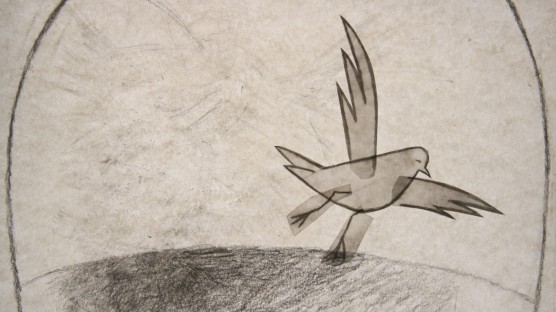 The main video consists of a narrative which re-enacts the moments before and after the experiment of suspended animation on rats – the scientist's thoughts during the process, a dialogue between the animals experimented on and an animation referencing to Robert Boyle's 17th century "Experiment 41". All of these give an insight into the complex relationships that shape the process of striving to achieve a scientific discovery. As a part of the installation, a table with three objects in a natural state of suspended animation were carefully chosen – brine shrimps (artemia) that come to life after dry eggs are immersed into water, seeds and the Rose of Jericho. These objects represent a juxtaposition to the scientific method requiring the toxic H2S.
The work was first shown in the scope of the Crucial Experiments exhibition for the Vienna Art Week 2013 at the venue of Ovalhalle in the Museumsquartier, Vienna.
Credits Filmed footage: Al Teleki Animation: Isidora Krstic Editing: Al Teleki and Isidora Krstic Sound: Al Teleki and Isidora Krstic Voices: Mariana Cabot, Al Teleki and Isidora Krstic
Special Thanks Chris Walzer – VetMed Uni, Herbert Edelsbrunner – IST Austria, Nikolaus Jantsch, Praved Krishnapilla, Department for Animation, University of Applied Arts Vienna, Thomas Grill, The Katzenjammers, Andreas Birnstingl, Antonia Meraner, Hannes Waxwender, Hamida Sivac, Matt Westlake, Marijana Ilić and all friends and colleagues for their time, patience and inputs.